How to Order Your Pawprint, Hand/Footprint or Hoofprint Custom Silver Pendant

This is a step-by-step guide for ordering your custom, handcrafted .999 pure silver pendant. After ordering your custom silver pendant, an imprint kit will be shipped to you free * via USPS** (United States Postal Service). The shipping fee during checkout is for the shipment of your finished pendant. The imprint mold will be returned with your custom silver pendant as a bonus keepsake.

How to Order:
     1. Select Pendant Category from Product Tab:
Pawprint

Babyprint

Hoofprint
     2. Select Pendant Type:
     3. Select Pendant Shape: (For Small and Large Pendants Only)
Circle

Dog Tag

Heart

Oval
     4. Select Image Finish: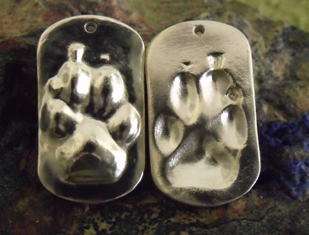 Imprint (recessed - pictured on the right)

Relief (raised - pictured on the left)
     5. Select Necklace Length:
      6. Select Image Type: (For Babyprints Only)
      7. Name
Input the name of the pet/person whose mold is being made.
      8. Weight/Age
Input the approximate weight (animal) or age (baby/child/teenager/adult). This is to insure that the proper amount of clay is included in your imprint kit.
* Free shipping of the imprint kit is included with a custom silver pendant order.
** If expedited shipping of the imprint kit is necessary, please call/text 760.601.5805 PDT or email info@pawprintsjewelry.com. The online shipping fee is for the shipment of the finished pendant and NOT for the imprint kit. There will be an additional charge for the expedited shipping of the imprint kit.