Paw Imprint Kit: Keepsake Mold and How to Take a Great Pawprint Video


The imprint kit contains everything that you need to easily make your pawprint, handprint, footprint or hoofprint mold.
Using the imprint kit box, you can return mail your mold to Pawprints Jewel
ry

TM. Your customized .999 pure silver pendant is handcrafted to be the exact imprint of your pet's pawprint, baby's hand or foot print or horse's hoofprint. A complimentary inscription is included on the back of the custom jewelry.
"How to make a Great Paw Imprint"
Thank you to Carolyn Menteith and Digby for producing and starring in the tutorial video.
Digby's paw pendant on a custom necklace: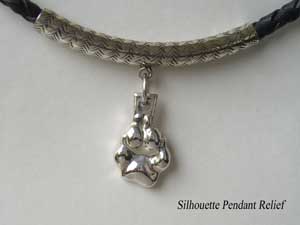 Your Imprint Kit Includes:

 Imprint clay which is non-toxic and will not stick to your pet's paw, child's hand or foot or horse's hoof like a wet clay and can easily be re-rolled if your first imprint doesn't turn out as well as you envisioned.

 Mini rolling pin/dowel to prepare the clay.

 Easy instructions to take an imprint of your loved one and inscription instructions for the back of the custom silver pendant.

 Return address label so that your mold can easily be shipped back to Pawprints Jewelry

TM

 using the imprint kit box.

 Take your loved one's imprint by following the imprint kit instructions. You can review the mold imprint tips video above for helpful advice.

 Let the clay air dry for 48-72 hours.

 Ship the mold to Pawprints JewelryTM in the imprint kit box using the return address label.
If you already have a paw, hand, foot or hoof imprint made in clay or plaster, we can use that to create a custom silver pendant. After placing an order, ship us your original imprint mold to 
Pawprints Jewelry
TM
, PO Box 2370, Palm Desert, California 92260. We will return it with your custom silver jewelry. Please let us know via email that you will be shipping the original mold to us.