This story was written for the Torre Argentina Cat Sanctuary's website in March 2009.
Rum, Me and Torre Argentina
"Green eyes. Red eyelashes. Freckled lips. Ringed tail. These are a few words that describe Rum (pronounced "room" in Italian). Rum and I met at the Torre Argentina Cat Sanctuary, www.romancats.com, in Rome, Italy in February 2005 during my first trip to Rome. My friend, Jill, had told me about the sanctuary and visiting it was my priority. Who knew that I would meet a three year old orange and white cat that would have a tremendous impact on my life.
During my five day visit, I stopped by Torre Argentina numerous times. Rum was always around ~ usually sitting on one of the white tables or sleeping in a basket atop a cabinet. A volunteer mentioned that he was a mean cat but I saw no such behavior. He came and sat on my lap a number of times and I never received a growl or a hiss. My trip was taking me on to visit a friend in England so I knew that I couldn't take Rum with me.........yet. When I returned home, Rome and, moreover, Rum never strayed far from my thoughts. Luckily, I had a few pictures of him sitting on my lap to cherish.
| | | |
| --- | --- | --- |
| Our first encounter | Torre Argentina | Torre Argentina |
When Jill and I decided to return to Rome the f
ollowing February for a ten-day visit, I promised myself that if Rum was still at the sanctuary, he would be coming home with me. Lucky for me, he was still there. I mentioned that I would like to adopt Rum. Immediately, Daniele, the assistant vet, began the adoption process. On Thursday, February 23, 2006, Rum began his journey to his new home in California. It took Rum a couple of months to acclimate to his new surroundings and his five new feline friends whose ages ranged from four to thirteen years old, but soon, it was hard to remember a time when he was not part of the family.
In April 2007, the 14-year old matriarch of the family, Monterey, became very ill and was diagnosed with kidney failure. During this time, I caught Rum watching over her many times ~ from a short distance. On Sunday, April 8, 2007, it was time to let Monterey go. I took her to the backyard while waiting for the veterinarian, Dr. Fenton, to arrive. All of a sudden, Rum appeared in the bedroom window that faced the backyard. Usually, when anyone comes to the house, Rum heads straight for underneath the bed. However, I noticed that Rum did not leave the window as the veterinarian walked through the house. He remained in the window the entire time as Monterey was given a little ceremony for her passing. I followed Dr. Fenton out to his car to give Monterey one last goodbye. When I returned to the front door, Rum was there sitting. I had always known that Rum was special but this act of compassion reinforced that feeling.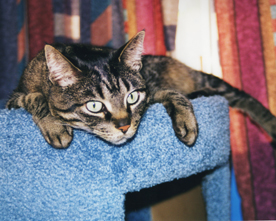 Monterey
On December 31, 2007, my world came crashing down. Rum became gravely ill. Since it was the eve of a holiday, New Year's Eve, my regular veterinarian was out of town. The relief veterinarian diagnosed Rum with kidney failure. When Rum returned home, he was so weak that I knew something else was wrong. I could not lose Rum ~ he was just five years old. I was devastated but I was going to do whatever it took to give him the best chance of recovery to reach his sixth birthday on April 15. The following day I drove Rum two hours to a veterinary internal medicine specialist, Dr. Slusser, and within minutes of seeing Rum, he suspected low potassium. A blood test confirmed it. The kidney disease was also re-confirmed. However, the low potassium would have killed Rum much sooner than his failing kidneys. Dr. Slusser saved Rum's life. A few days later, Rum headed back home with a stringent home care therapy. For a cat that would not let you pick him up or try to restrain him in any way, he was a wonderful patient. His therapy included subcutaneous fluids plus daily food supplements. I never expected him to cooperate with the fluids but he did. Over a year later, he continues to be cooperative.
In October 2008, Rum, once again, showed his caring side with his best friend, Auggie, who developed a horrible cold and could no longer meow. Auggie was the the family's calming force but, in his condition, he did not have the strength to patrol the house. Rum took over that role even though it was outside his usual comfort level. Rum made sure that the latest addition to the house, four month old Myotis, left Auggie alone during his recuperation. If Myotis became too rambunctious, Rum would place his paw on top of Myotis's head to tell him to stop and settle down. Sometimes it took more than one attempt at a paw atop Myotis's head for him to stop. Once Auggie recovered, the roles changed back and Rum returned to his comfort level ~ watching from afar.
| | |
| --- | --- |
| Rum , Auggie (forefront) & Jerri | Rum and Myotis |
I'm writing this story while recuperating from surgery. Once again, Rum has shown his intuitiveness which I must share. My post-surgery night was spent on the living room couch with my feet resting on a piece of cat scratching furniture. Rum watched over me all night atop this piece of furniture. I know this because my sleep was not very restful and every time I awakened I could see his silhouette. The following night when it was time for Rum's fluids, instead of staying on the floor where he usually received them, he jumped up on the bathroom counter. It was as if he knew that I couldn't easily bend down. He continued to jump up on the counter for a number of days thereafter. That same night I was able to sleep in the bed. Rum who usually sleeps on the bed next to me slept directly on me and continued for several nights. He has been and continues to be an integral part of my recovery.
I'm so grateful to Torre Argentina for this gift of Rum. I will never forget the first time that I stepped in to Torre Argentina and my first encounter with Rum. I'm so lucky that he picked me to share his life."
Addendum:

 Rum passed away on Sunday 12 July 2009. A hole in my heart appeared the day that he passed and it will never be filled. However, I know that Rum is always with me and he has helped me through some difficult times.
Upon his passing, I immediately thought of Linda, Pawprints Jewelry founder, and her pawprint pendants. I had two pendants made. One of an imprint and one of a relief silhouette pendant. Once I received the pendants, I immediately put the relief pendant on and constantly rubbed it on and off. I still do to this day. It imitated the shape of his paw pads except for the softness and this gave me some comfort. I haven't taken off the pendant since that day.
When Linda approached me about purchasing the business, I did not need much time in making my decision. How could I not continue the production of something that has brought me so much comfort over the years? I have Linda and Rum to thank for this gift.
Addendum:
Lia Dequel, Torre Argentina Cat Sanctuary co-founder, passed away on the 3rd July 2013. I became aware of this horrible news when checking the Roman cats website on the morning of the 6th July 2013. My heart just sank. I had no idea that Lia had been ill. Words cannot properly express how much this woman means to me and the affect she had on me during my few short visits to the sanctuary since 2005.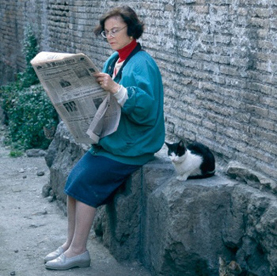 Lia and friend
I consider her a mentor and inspiration in the fight to save cats. Unfortunately, I never told her this. During my volunteer visits, she treated me like one of the staff with welcome arms. She had a tough exterior to handle all that is thrown at you when rescuing cats but she also had the biggest heart. I have so many uplifting memories. She kindly took me to dinner at a restaurant in the Ghetto di Roma where I had never been. She introduced me to the most fabulous pizza on the planet from a pizzeria across the street from the sanctuary. No tomato sauce or cheese required on the cooked dough but plenty of potato and onions in olive oil. Then, there were all of the cats. Ramingo was one of her favorites. A long haired all black cat with a neurological problem that made his walking difficult to watch by most. Lia looked at him with pure love and knew when he was making hurdles over his challenges. Hearing her yell "Basta, basta" if a cat had jumped up on one of the few areas that were off limits to them. These are just a few of my memories. Click on this link for further stories of this amazing woman: 
http://www.romancats.com
.
In addition to the gift of Rum, in March 2010, Lia allowed me the gift of a three-legged tabby, Gene Kelly, who I had fallen in love with thanks to the vet assistant, Daniele, allowing me to help him during my visit. Gene Kelly is a story for another time. This website is dedicated to Rum, Auggie (passed 4 April 2014), Lia, Silvia, Daniele, Karen and all of the wonderful cats and staff at the Torre Argentina Cat Sanctuary.